Calendar: : Aligned for Conquest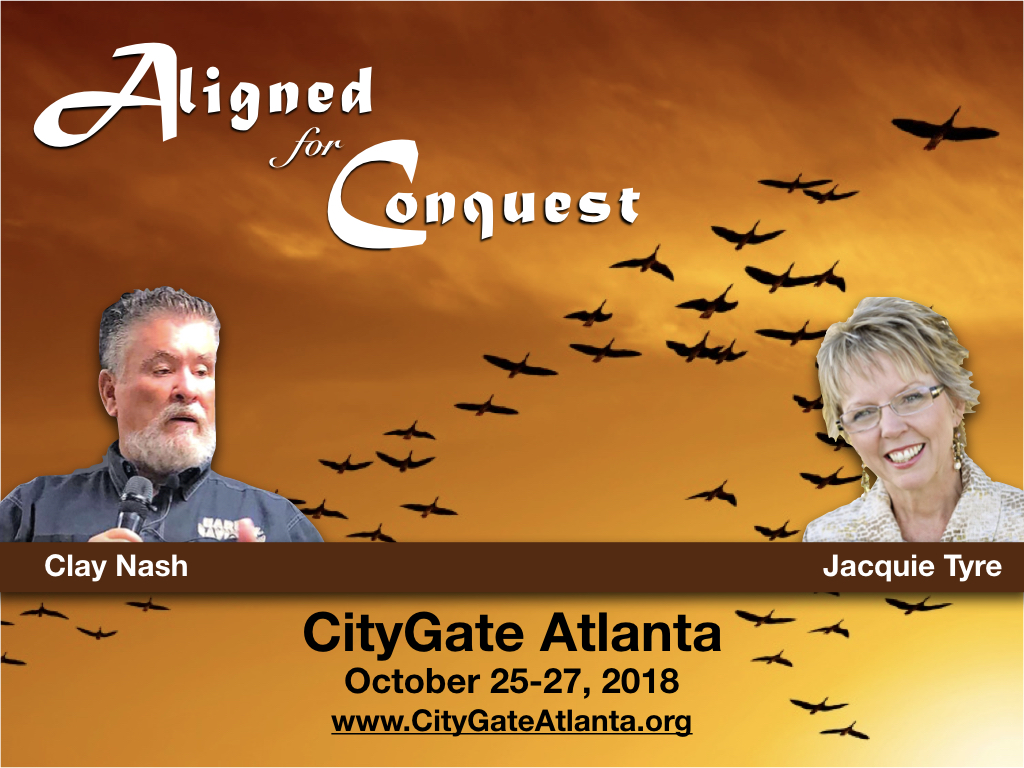 Kingdom Alignment is a vital component for all who would seek to fulfill their God-given purpose as followers of Jesus. In recent years the discussion of alignment has become quite prominent, even becoming a bit of a buzz word at times. Clay Nash walks out of a deep understanding of the purpose, power, and practicalaities of being a people "aligned for conquest" to advance God's purposes -- even against tremendous opposition. Through gleaning from the teachings of revelation of Kingdom alignment brought into application and implementation you will gain much understanding to enable you to effectively and efficiently move forward in the days ahead.
Registration: $35
Seniors, 65+ & Students: $25
Schedule: Thursday, 7pm
Friday, 7pm
Saturday, 10am-1pm
Courtyard Marriott Norcross/Peachtree Corners
3209 Holcomb Bridge Road
Norcross
GA
30092
Start date: 10/25/18
End date: 10/28/18
Last day to book:10/4/18
Courtyard Atlanta Norcross/Peachtree Corners for 93.00 USD - 113.00 USD per night
---
Clay Nash has become a powerful prophetic voice declaring the Kingdom of Heaven in people's everyday lives. As an apostle, he has founded and led numerous assemblies of believers as well as a network of relational covenants with ministers throughout the world.
Clayserves on the team of Network Ekklesia International along with Dutch Sheets and Ken Malone. He is also aligned Global Spheres with Chuck Pierce. He has a doctorate in theology and is married to Susan, his wife of 45 years. They have three children, four grandchildren and countless spiritual sons and daughters.
God continues to use Clay Nashin the areas of supernatural signs and wonders, releasing apostolic authority and Godly wisdom. He and Susan have a passion for the body of Christ to inhabit their true purpose by discovering who they are in Christ and being grounded in spiritual realities.
---
Jacquie Tyre is the founder and apostolic leader of CItyGate Atlanta and Kairos Transformation Ministries. Her desire is to see every believer discover and walk in the fullness of God's purpose and destiny as fully devoted disciples of Christ. With a strong passion for the presence of the Lord, a deep love for the Word of God, and surrender to the working of Holy Spirit in her life, Jacquie lives in constant pursuit of awakening that will touch every arena of life, personally, in families, communities, states, and nations.
Jacquieis apostolicly aligned with Network Ekklesia International, led by Dutch Sheets. She is most closely aligned with Clay Nash who is one of the key leaders within NEI. Jacquie also is aligned with Global Spheres led by Chuck Pierce, and Global Reformers led by Robert Henderson. Jacquie also leads the Atlanta satelitte campus for Kingdom Leadership Institute founded by Dr. Don Lynch. These relational alignments that have been fostered over the last 10-20 years and are vital to the call, vision, and assignments of the Lord in her life.
Jacquie has been married to Mike Tyre for 40 years and they have three adult sons, two lovely daughters-in-love and a 2 beautiful granddaughters and 2 handsome grandsons.